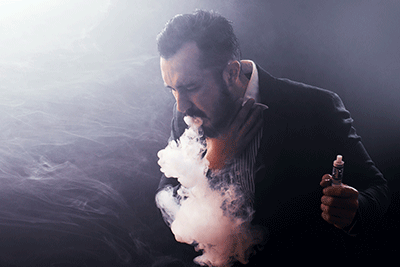 Why Vaping Might Make You Cough

Coughing, in any case, is an unpleasant experience.
With vaping, similar to smoking, coughing may occur and it's often attributed to two key reasons – e-liquids with too high a nicotine strength and not using the correct vaping technique.
Can you avoid coughing when you vape, enjoy the experience more and not revert back to smoking?
Let's find out, by first exploring the reason we cough, even without a vape.

What Is A Cough?

Does Vaping Cause A Cough Directly?

Solutions To Prevent A Vapers Cough
Coughing for longer than you might expect? It's all about experimenting with your device settings and e-liquid to get the right fit for you.
Like mentioned previously, the most common reason for vapers coughing will typically lie with the strength of nicotine found in your e-liquid.
Drop down your nicotine level if required to find a more suitable level.
Depending on the ingredients of your e-liquid, you may be suffering from some kind of allergic reaction to the Propylene Glycol, which is the liquid that the nicotine is mixed with to produce vapour.
Considered safe to use, the colourless liquid is frequently used in food production and pharmaceutical products.
Because it's known to dry the throat, if a cough persists when you do vape, we suggest trying a VG-only vape juice like VSAVI's 100% VG and see if that helps stop your cough.

Mouth To Lung Or Direct To Lung?
Another reason that you may be coughing when you vape could be down to the inhalation method.
It may be tempting to try and get a big hit of nicotine and puff with gusto when you vape, but bear in mind the power needed from your electronic device to ignite the vape.
Too much directly into the lungs can feel harsh on the throat. What you need to do is use a lower powered device to begin with, vape at a low wattage with the correct e-liquid that feels right on your throat and take small mouth to lung puffs to familiarise yourself with something new.
Then as most vapers do, you can drop your nicotine and go on to a higher powered vape mod if you want to experiment more and test out different e-liquids using the direct to lung method.
Remember that the reason for quitting smoking and starting vaping was more than likely a healthy choice.
Significantly less harmful than smoking, Public Health England say that e-cigs have the potential to help smokers become smoke-free, so taking it steady is the best course of action to not relapse.
Rather than sucking overzealously on your vape pen to get the biggest hit of nicotine you can, lightly draw on your vape pen and get just the right amount of nicotine you need to calm any cravings you may be facing.
If the experience still feels too harsh on your throat and is causing irritation, nic salts might be the best step forward in your vaping journey.
Because of the extraction method with this pure form of nicotine using benzoic acid, it's the smoothest experience on the throat and gets into the bloodstream in the fastest way.
Therefore, you have a high level of nicotine but need to vape less, reducing the chances of irritation on the throat but still getting the hit required.
Source link