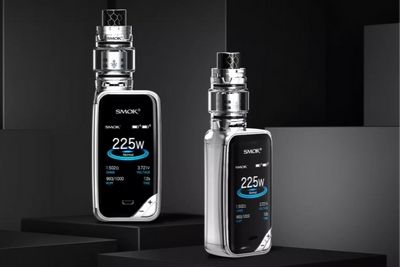 Smok X Priv Best Settings

If you've recently treated yourself to the oh so sexy Smok X Priv, then you may have noticed that this beautiful piece of vaping equipment has got some great features.
Aside from it's beautifully crafted exterior, underneath the hood, the Smok X Priv boasts some seriously supreme quality when it comes to technology.
Not only will you be able to create humungous clouds of thick luscious vapour, but you'll also benefit from depth in flavour that the Smok extracts from your favourite e liquid.
Let's take a look at the best settings to use with the Smok X Priv.

Getting The Smok X Priv Set Up
Once you've unpacked your Smok X Priv box and read the instruction and safety manuals, you'll be able to get set up.
Ensure the device is fully charged and fill your tank with your favourite e-liquid before switching your device on.
To do this, click the fire button 5 times in succession to switch the SMOK X Priv on.
Once on, click the fire button again 3 times to access the menu, whereby you'll be able to select and amend various settings in order to create a personalised vaping experience.

Wattage Settings And Coils


Your pre-installed coil will be the V12 prince-Q4 Coil.
While it's suitable to be selected at between 40 and 100 watts, you'll achieve the best results by setting you wattage between 60 and 80 watts.
Using quadruple coils allows the Q4 to produce a resistance of 0.4 ohms, which provide a deep, rich vapour cloud as well as the flavours to match.
Along with other accessories included in the Smok X Priv pack, you'll also find yourself a V12 Prince-T10 coil head that is suitable for a wattage setting of 60 and 120 watts.
In order to experience the seriously big vapour clouds and immense flavour profiles that the Smok X Priv is synonymous with, selecting between 80 to 11o watts will be what you're looking for.
With coils providing a resistance of just 0.12 ohms, this is sub-ohm vaping at its finest.
In all instances, we would say start vaping at the lower end of the recommended wattage and increase the watts and temperature as your vaping session goes on.

Memory Mode

We vapers vary in our tastes. What you may like with certainty, your fellow vaper may sneer at condescendingly.
We're all different and we all have different needs that suit our needs.
With that being said, once you've found that particular sweet spot, instead of recalibrating all your settings every time you need to vape, save your settings with Smok X Priv's memory setting.

Setting Your Puff Count


Want to limit your vaping? Fancy knowing how many puffs you've had?
Via the menu screen, opt for the puff count page and really take control of your vaping.
Ideal for letting you know how much you've vaped, if you're serious about becoming both smoke-free and nicotine-free with the help of e-cigarettes, limiting and gradually reducing your puff count can be a great way to reach your goals.

Screen Colour Settings


Want your vape pen to match your outfit or favourite sports team? To truly personalise your Smok experience access the menu screen and you'll find the ability to change the colour settings of the screen – it's the little things in life, isn't it?
Source link